Review: Renfe AVE Preferente, Madrid Atocha – Sevilla Santa Justa
The trains in Spain are run by Renfe AVE, a world class inter city train system. Our trips with Renfe AVE would end up being easy to book, mostly punctual and fairly comfortable in terms of on board amenties, meals and timeliness. Read on to see how our most recent trip from Spain's Madrid Atocha to Seville Santa Justa fared.
---
This post is one chapter on our trip to Iceland, the United Kingdom and Morocco. This trip was redeemed through Alaska Mileage Plan and enhanced through Marriott Bonvoy Elite Status. For more information on how this trip was booked, please see our trip introduction here. For other parts of the trip, please see this index.
If you enjoyed this post, please follow us here or on social media through Facebook, Twitter or Instagram for more travel tips and hacks on how to "Upgrade Your Travels".
---
---
Review: Renfe AVE Preferente, Madrid Puerta Atocha – Sevilla Santa Justa
We walked the ten minutes per Google Maps downhill from the Westin Madrid to the Madrid Atocha station. It was more like 20 minutes by the time we navigated slow pedestrians and some various sidewalk construction around the area.
Renve AVE
AVE 02120 (Madrid Puerta Atocha – Sevilla Santa Justa)
Sept 6, 2018
12:00 PM – 2:32 PM
We arrived at the train station at about T-30. We entered into a secure area which involved a baggage X-ray. The train platform was not announced until about T-20 which prompted a small stampede to track 5.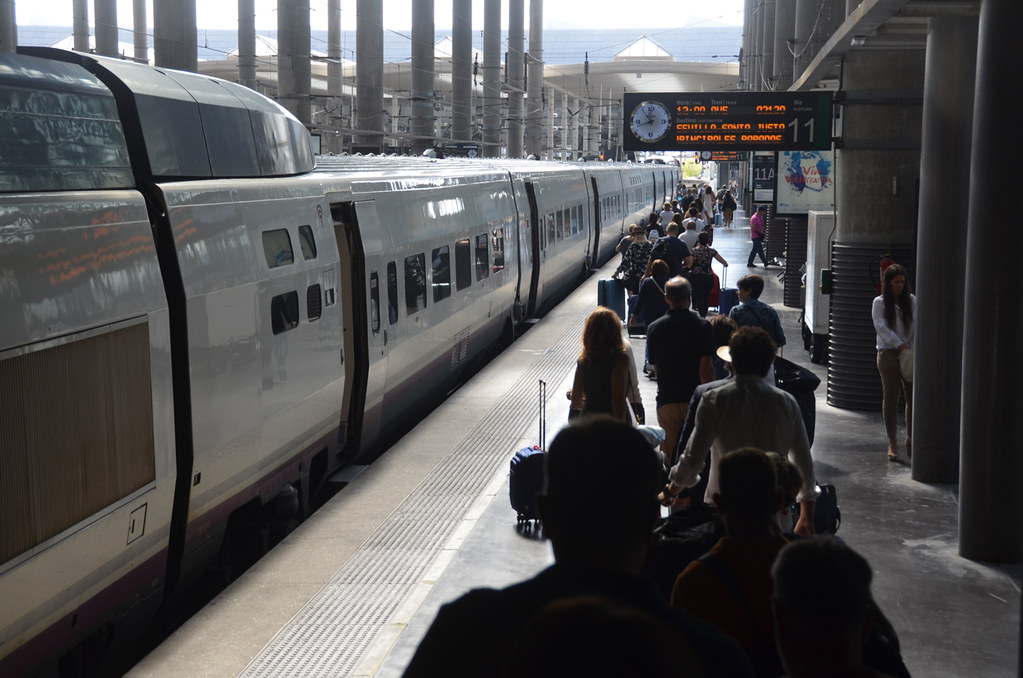 On Board Renfe AVE:
We had booked in Prefrente (business) today and we were in the first car closest to the escalators. The Renfe trains have a small baggage area near the entrance. There are small places for personal items above the seat. We were fortunate to be among the first as the baggage space for normal sized suitcases went quite quickly.
We found our assigned seats. Renfe did not allow selection of the seats from the website based on the fare class we had taken. As a result, as we located our pre-assigned seats, it turned out we were facing backwards. It was not my first choice but there wasn't anything that I could do about it.
The train left on time. As we got underway, the service staff offered crackers and a complimentary beverage service in classy plastic sippy cups.
Food and Beverage:
A lunch service consisting of a snack box and a glass of wine was offered a bit later. This came with a menu car featuring an advertising promotion for a celebrity chef. The sandwiches were just plain old sandwiches however. The catering has slimmed down to a more industrial and cafeteria style of service since the last time that we had travelled on Renfe AVE about 6 years ago. We then had a normal airline sized tray of food versus a small cardboard box.
After a 10 minute stop in Cordoba, we were underway again. The train emptied our with about 60% of our car getting off in Cordoba.
We arrived in Sevilla Santa Justa on time. We found ourselves a taxi to the hotel which was inexpensive, about 10€ including 3 € extras for our bags.
In Summary:
The Renfe AVE service is still reasonable and an enjoyable way to get around city centre to city centre. It was much more enjoyable than my German DB Bahn experiences later in the year. As a result. it's a worthwhile alternative to flying while in Spain.
---
If you've travelled with Renfe AVE, how do you find it compares with other European train systems like Deutsche Bhan in Germany or SNCF in France ?
---